Make an offer
Hi guys! Been away for awhile... I\'m in NC now. Not set up yet unfortunatly but I just got my internet hooked up. I\'ll set up the email today or tomorrow. The move was horrible and the sudden temp drop has messed me up and I have a nasty cold/flu/whatever.
Anywho, I\'m in need of cash (bad) at this point so I have a few goodies that you may interested in!
Jason \'vs\' master copy, never re-moulded! Still needs to be \'seemed\'. Latex/foam filled. I need to fill 2 more orders then I will destroy the only mold I have. You buy it, you can produce them!
Two hockey masks, one \'Eddie\' painted up and the other is a GT.
Part 1 blank, needs a little clean up, it\'s not a perfect pull. I\'m in the middle of painting one for Adam and after that I\'m only making one more then destroying the mold! Anyone interested in the last one? $150 + shipping...
Last but not least.
Green Goblin silicone mould/stone mother mould. The silicone is not flawless. Has a couple little \'chips\' here and there but still in great shape! Castings will need a little bit of work... Master copy in the picture is not included. You get the mould for the helmet and for the teeth! Shipping will be $30 in the U.S. (it\'s heavy). Remember, the GG is going to make a come back in the next Spiderman movie!
pics of finished helmet!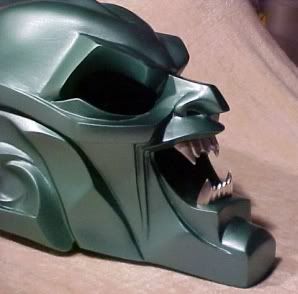 Anyway, PM me with offers (no emails)! PayPal only...
I hope to be back up and running very soon. I\'ll keep you guys posted!
It\'s good to be back
I cant wait to get back into the clay and latex!!
EDIT, just checked the PM\'s... Messed up??? Just post here then